What We Do
Big Business Events host business seminars throughout the year across the UK, and residential courses internationally.
Watch the footage from one of our recent events, below.
Adam Stott, Founder of Big Business Events, has studied all aspects of business relentlessly to master the skills needed to take a business from start-up to multi-million-pound turnover. At these informative and networking driven events, he shares some of the secrets and knowledge he has gained regarding marketing, branding, finance, business development, strategic planning, recruiting, fundraising, lead generation and enquiry management. He is also joined on stage by a variety of leading business professionals who will provide advice and wisdom.
As well as Adam, Big Business Events featured speakers include:
Lee McQueen, co-founder of Big Business Events, winner of 'The Apprentice' and owner of award-winning recruitment company Raw Talent.
Cindy Ferrera, a financial services and sales expert with expertise in the UK and Asian markets. Cindy coaches and provides consultation services for executives and entrepreneurs in the fields of sales, negotiation, communication, development, and leadership.
All Big Business Events Business Academy courses are free to members – read more about membership here.
Join an exclusive club of successful business people and get 12 months of insightful business courses.
Twelve-month programme of exclusive business courses on Social Media, Marketing, Sales, Lead Generation, Branding, Recruitment, Finance and more.
Invitations to our exclusive members-only events.
Priority booking for VIP hospitality and residential events.
A copy of Adams' Audio Book 'The 40 Rules To Make Any Business Successful and Profitable'.
Access to the Big Business Events members-only Facebook Group.
Weekly live Q and A sessions with Adam Stott.
Access to the Inner Circle Online Training Portal.
Read more about membership here.
Free for Members
The following courses are available to members free of charge.
Business Master Course – At this two-day event, our speakers will transfer a depth of knowledge, tips, and insight into what works in business and what made them so successful. You will also be shown how this information can be applied to your specific business.
Social Media Mastery – Attend this one-day intensive course and become an expert in using social media to benefit your business.
Sales Mastery – A one-day intensive course teaching you how to optimize your sales effort.
Marketing Business Master – Learn new sales techniques and strategies to optimize your sales operation.
1m Sales Results – Do you have what it takes to grow a £1m business?
One day courses are priced at £497.00 and two-day courses are £797.00 per person to non-members.*
Marbella – Big Business Events will be returning to the Costa Del Sol for a content packed three-day event at a 7 million Euro luxury villa in a prestigious Marbella hill-top estate. Millionaire speakers include Adam Stott,'The Apprentice' winner Lee McQueen, and other celebrity guests. Learn how to create and nurture high-level business events, improve marketing techniques, improve your sales process and build your business. You'll also get one-to-one coaching – surrounded by beautiful panoramic views.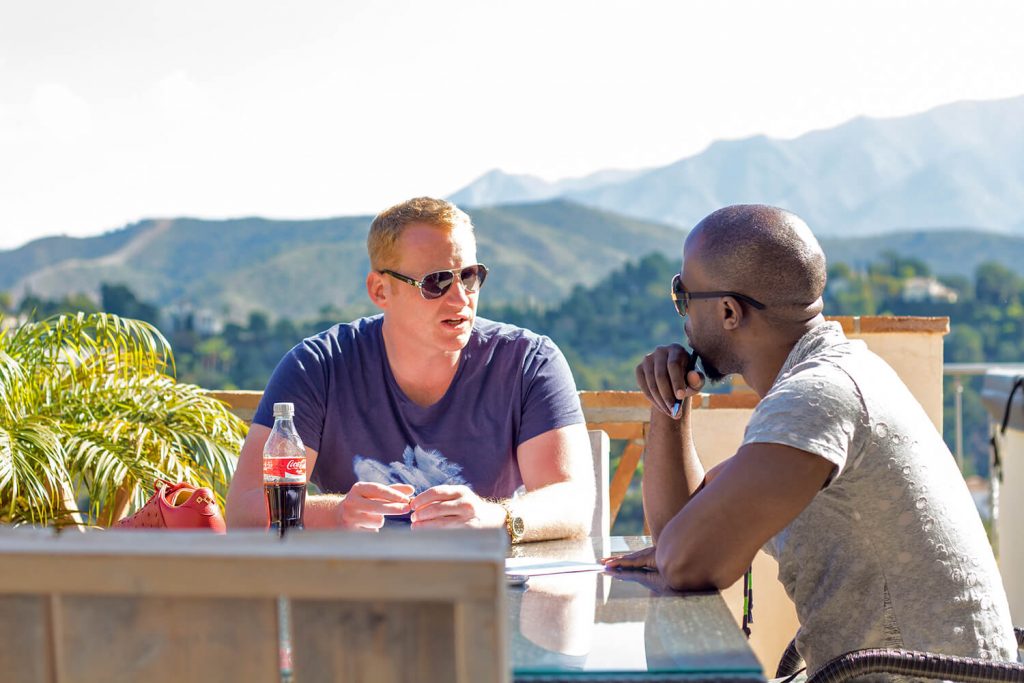 Do you want to make it Big?
Adam has coaching programs with his teams of experts that are proven to accelerate any business. Big Business Events offer specific business coaching packages for individuals at different stages of their career. All of Adam's team have been personally trained or have expertise at the highest level of business. So whether you are a start-up business, a small or medium-size business or a large corporate, Adam and his team have the expertise to help you achieve massive business growth or huge increases in profitability.
Our expert business coaching can help you get to the next level, contact us now.
The Inner Circle Online Training Portal
The Big Business Events Inner Circle is our new online training portal – and you can become a Member today – for free. The new portal includes various online training resources including:
Audio Books
Webinars
Modular learning
Live event recordings
Daily 'Business Diary' entries
Social Media updates
Business and Celebrity interviews.
For more information, please click here.